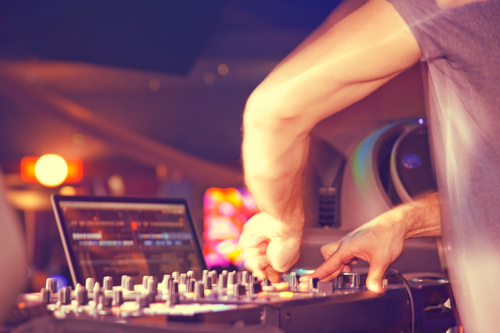 Our Company
Sirius Diversions was started by DJ ILLEET in January 2011. He saw a need for professional entertainment and event services in NW Georgia.
The company is a for-profit endeavor, but also supports various charitable organizations, providing monthly financial support, discounted services, and other assistance. Being a blessing to others is an important part of our core values. We currently provide ongoing monthly support to an orphanage in Uganda, and provide services to organizations such as Advocates for Children and Children's Healthcare of Atlanta at no charge or greatly reduced rates.
Our Team
DJ ILLEET – Since being introduced to the industry by his best friend, DJ ILLEET has performed at over 500events, including over 200 weddings. His use of beat-matched song mixing, using turntables or high-tech gear, and knowledge of great music, helps him create upbeat, fun, high-energy events. This, combined with his experienced MC abilities, make DJ ILLEET a crowd favorite for weddings, corporate events, school dances, and private parties.
DJ Brad – With over a decade of experience, DJ Brad has performed over 300 weddings, and about 300 other events. He is not a mixing DJ, but he is an experienced DJ, MC, and national award winning announcer. His microphone presence, professional demeanor, and knowledge of music make him an outstanding entertainer. He loves classic rock, disco, 80's pop, and is also a skilled karaoke host.
DJ Clay – Clay is the "Original Gangsta" of the team. With over two decades of experience on "old school" turntables, he cuts, blends, transforms, and juggles with the best. Clay has played regularly at many of Atlanta's hottest nightclubs, including Tongue & Groove, Three Sheets, Opera, Gold Room, Wild Bills, and many more, and has won many DJ battles. Additionally, he has done hundreds of weddings, corporate events, school dances, and parties, opened for celebrities, and much more. If you want a DJ who is a master of the turntables, DJ Clay has the skills to pay the bills.
DJ Travis – One of our two EDM specialists. Travis has the energy and passion to spin hot new EDM and classic EDM hits, as well as other genres. In addition to being a great DJ, Travis is a skilled event lighting designer and technician.
DJ Ryan – Our other EDM junkie. Ryan loves the energy he gets from the typical EDM crowd. High schools and college students love his music mix. He worked "behind the curtain" assisting with Tomorrow World, and was the after party DJ for Imagine Music Festival. He also produces his own music, and loves to mix Top 40 and rap with EDM.
MC Kevin – Kevin is an MC, dancer, fitness instructor, and DJ. His boundless excitement and smooth voice provide motivation for countless events. Guests of all ages love his infectious smile, upbeat attitude, and amazing dance skills.
Chris – Chris is a recent addition to our team. Filming event video is his specialty. If you want a videographer with attention to detail and a great attitude, Chris is the guy to call.
Vicki – Vicki is our amazing event coordinator. Have a wedding for 100 people? She can help you plan and coordinate it. Have a corporate event for 10,000 people? No sweat, she's done events for more than twice that many people. With two decades of experience, she has tons of contacts and knowledge. Whether you just need a little help tying up loose ends, or need a total turn-key solution including finding, interviewing, and managing all your vendors and suppliers, Vicki is your solution.