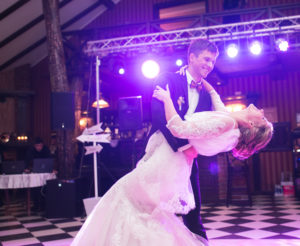 When planning her wedding day, every bride will eventually come to this inevitable question: "Live band or DJ?" The way you answer this question when it comes to your own special day is far more important than many realize and is key to determining the overall tone of your reception.
Sure, there's one thing you know without a doubt — you want music that will keep the dance floor busy and spirits high all night long, and you know the way to do that is not with your iPod on shuffle. But how do you determine if a band or a DJ is right for your wedding? The answer is different for every kind of bride & every kind of wedding.   You may even consider having a band and a DJ if you having a very long reception.
The good things about wedding DJs…
Enjoy your favorite songs sung by their original artists.
DJs have a huge repertoire of music, which makes for tons of musical variety.
The music can be played non-stop without breaks.
Wedding DJs are often significantly cheaper than their live counterparts, costing on average between $500 to $2,f00+ (not including other services they might provide, like lighting).
The equipment requires very little space.
The good things about live wedding bands…
A great live performance can energize a crowd like almost nothing else.
Great for themed music, like 1930s jazz or salsa.
Can easily accommodate a tempo change if the crowd seems to need it.
Great for guests who want to dance or just watch the show.
With a live band, you can almost guarantee that your reception music will be one of a kind. The thought that no one will have danced to the exact same first dance song is utterly romantic…