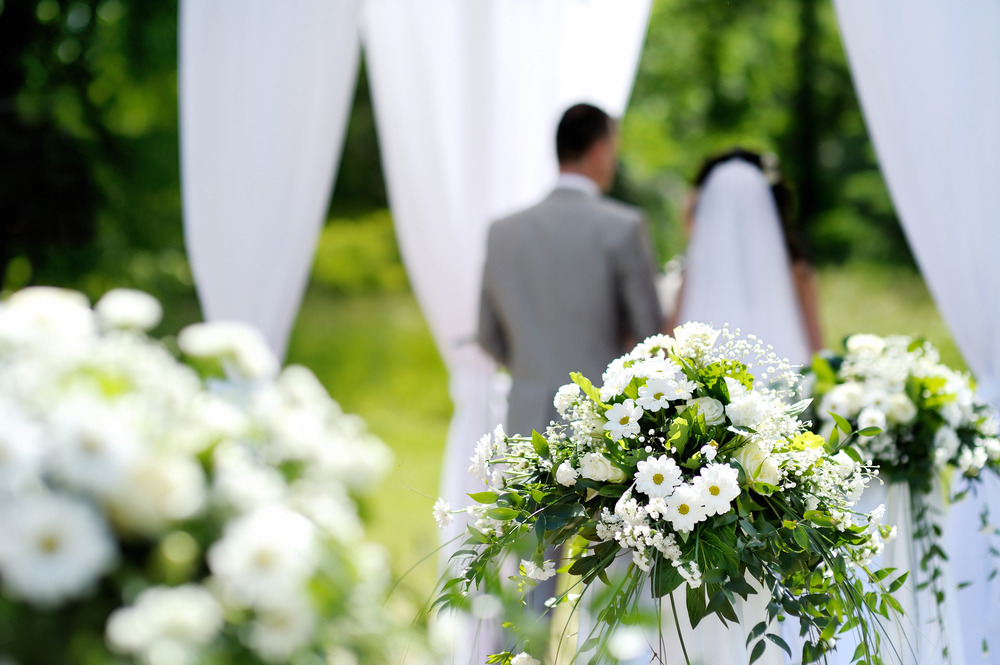 Spring weather is just around the corner for Atlanta weddings. Abundant sunshine, scenic vistas of northwest Georgia, and comfortable temperatures make an outdoor wedding seem attractive. Avoid these pitfalls as you walk down the aisle towards your outdoor wedding!
First, have a Plan B. Does your venue have an indoor space large enough to hold all your guests in case of a late cold snap? Does your uncle's picturesque farm have areas for parking? Will the parking area drain well in case of unexpected rain?
We provided the DJ for a wedding near Cartersville. The bride intended to get married on her parent's riverside property. Rainstorms started the night before the wedding and continued for nearly 2 days straight.
She ended up getting married in a hay barn, partially emptied of hay the day before the wedding to make room. Younger guests sat on rolls of hay. Tables were squeezed together during the reception. Parking was a concern. Guests could not pull very far off the road to create safe driving space without risking a car stuck in the mud.
The photographer's assistant held an umbrella over his equipment, and the wedding party stood under the roof of a feeding trough. The barn was too small for the number of guests they expected. However, everyone worked together to make the best of it. Having a Plan B could have prevented a lot of "day before the wedding with no rain plan" stress. Thankfully, she was flexible, and her social network put her in contact with the barn's owner.
Second, help your guests keep their cool. If you are planning to be a "June Bride", consider that summer for an Atlanta wedding is going to be hot. The summer sun will bake your guests.
Do you like to be in the "hot seat"? Neither will your guests. Provide cushions for your guest's chairs. A chair sitting in the August sun for an hour can burn the skin. Make it more comfortable with a chair cover or cushion.
Remember, your guests may be sitting outside for an hour. Expect 10-30 minutes before your ceremony begins, 15-20 minutes for your ceremony, plus another 5-15 minutes during the Recessional and immediately following. If your reception is also outside, that can lead to excessive sun exposure. If possible, select a site with at least partial shade for the ceremony and reception.
Also, remember that alcohol and sun can lead to bad sunburns. Provide your guests with shade for their safety. Another idea is to offer party favors in the form of mini-bottles of SPF lotion. You can order them online with custom labels of your wedding date, etc.
Finally, keep in mind higher temperatures can affect food quality, and even food safety. Cold drinks won't stay cold long. Dairy products can go bad quickly. Shrimp cocktails can be dangerous if they don't stay cold enough. Make sure your caterer is prepared for a warm outdoor reception.
An outdoor wedding in northwest Georgia can be an exquisite experience with a little forethought and planning. What are some tips you have for other brides? Leave them in the comment section below!
Surveys show that six months after a wedding, your entertainment will be what your guests remember most about your wedding. Make sure their memories are great, by hiring a great entertainer. Call Sirius Diversions and let's start planning your wedding today!