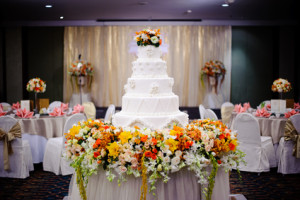 Surveys show that six months after a wedding, your guests will remember one thing about your wedding more than anything else… your entertainment. Choosing the right entertainer can help ensure your guests remember your Atlanta wedding reception as a great party! Contact Sirius Diversions today.
True "night-club style" mixing wedding DJs, interactive MCs, dance floor lighting, uplighting, photo booth, event space draping & furniture, Dance on the Clouds, monogram lighting, Love Story presentation, video presentations, wedding planners, online service, and so much more. Whatever you need for the entertainment on your big day, we can provide it.
We help fun-loving couples create special memories using great music, and we take pride in providing the right entertainment for each couple's individual dream wedding.
Want to see us in action at weddings? Check us out here!