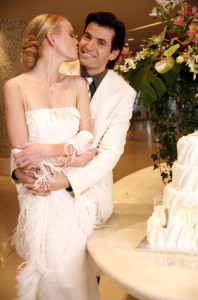 Do you wonder who should pick up the tab? As an Atlanta Wedding DJ, I've been involved with over 200 weddings. Talking with my clients, I've seen many different ways of handling wedding expenses. Frankly, couples split up wedding expenses differently, and that is perfectly fine. Every couple is different, and their weddings are unique, so don't expect "one-size fits all" advice here.
What are the rules?
The first rule is… There are no rules! There are traditional ways of dividing expenses, but even long-held family tradition can be changed to suit your upcoming Atlanta wedding.
Obviously, this is your day. If you decide not to stick with tradition, that is your right to do so. As a couple, decide what is important to you. Some "traditional" expenses may not even be something you want in your wedding!
What if one family is much wealthier?
If you are both from similar economic situations, then you may both have similar expectations for the wedding day. However, if one of you is from a much, much wealthier family, that can lead to stress. Unless both families are committed to loving communication and openness, you could have a situation where the less-wealthy family feels they need to spend more than they can afford, or where the wealthier family feels they are being taken advantage of. Both families should be willing to openly communicate what they can afford to commit to the wedding.
Remember, at the end of the day, you are both there for the same reason… your love for each other. Money is the number one thing newlyweds fight about. Don't let money come between you.
Traditional expense sharing…
Groom's Family:
Bride's rings
Bride's bouquet, corsages for mothers, boutonnieres for fathers, best man, and groomsmen
Groom's tux
Transportation for the groom & best man to ceremony
Transportation and fee/gratuity for the minister/officiant
Transportation for groom's parents
Gifts for the groom's attendants
Marriage license
Liquor / bar expenses
Rehearsal dinner expenses
Honeymoon expenses
Lodging for Groom's attendants (optional)
Bride's Family:
Groom's ring
Bridesmaid's bouquets, groom's boutonniere, flowers for ceremony & reception
Bride's dress, accessories
Transportation for bridal party to ceremony & reception
Gifts for the bride's attendants
Photography & Videography
Church expenses
Reception expenses, venue rental, etc
Music at the ceremony & reception – DJ, band, vocalists, ensemble, etc
Invitations, programs, other paper goods
Rentals for ceremony or reception
Bridesmaids' luncheon or dinner – a week or so before the wedding
Wedding planner fees